Ce l'abbiamo fatta.
A meno che V per Vendetta delle mie balle non arrivi e faccia esplodere Londra, Westminster, Buckingham Palace e tutti i filistei.........vedrò dio.
Non in senso mistico, non il vecchietto della Lavazza che sopporta Bonolis e Laurenti...non avrò la folgorazione sulla via del villaggio dei Puffi...
In effetti sarò rintronata da una voce ultraterrena, in un certo senso..
Insomma, vado a vedere
Idina Menzel
.
Vado a vedere
Wicked
a
Londra
.
Non so se rendo, vado a vedere
Idina Menzel
, in
Wicked
, a
Londra
.
Ripetutamente.
Dio in persona.
Che canta a due ore di volo da casa mia, invece che in quel sogno travestito da strada che la gente chiama Broadway..(e probabilmente a qualche fermata da casa, perchè non so ancora dove abiterò una volta trasferita lì, ma di sicuro sarò accampata fuori al teatro per giorni e giorni..)
Nel ruolo che ha creato lei e che le è valso uno stramaledettissimo Tony.
Più lo dico e più mi darei roncolate forti in faccia perchè non ci credo.
Tra tre mesi, puttana miseria.
L'unica pecca è che l'adorata nanerottola
Kristin Chenoweth
non ci sarà, nei panni rosei e vaporosi di Glinda The Good..e vabbè, che ce posso fà..
In effetti nei miei sogni lei, la bionda Kristin, è lì in platea a due file da me, a guardare la nostra Idina sul palco (nei miei sogni ad occhi aperti c'è pure la vice dio, sua maestà
Julia Murney
, in platea, la donna dai lungs of steel... Che mi prende in simpatia e mi porta di sua sponte dietro le quinte. E mi presenta a Idina come sua amica. Direi che sono da ricovero..), e alla fine riesco a farmi la foto con entrambe, di cui una viene mossa, una non è partito il flash, l'altra (fatta per sicurezza) è un ritratto di un gremlin vicino due dee greche, sparafleshata tipo cervo nei fari su una strada buia, gli occhi rossi da cavia albina, i capelli ingrifati di un'erinni in menopausa e la smorfia di chi tenta-di-sorridere-ma-non-troppo-che-poi-faccio-la-figura-della-fangirl-isterica.
E con un pelo nero gigante che spunta come la luna dal monte sul mio mento, comparso da chissà dove chissà quando.
Loro? Perfette. Luminose. Scintillanti.
Anche nelle mie fantasie faccio figure di merda.
Ma a me basta una foto sola, una. Lei.
Idina
. *glom*
Se mai ci riesco, una foto del genere sarebbe una reliquia, e conservata come tale, lontana da occhi indiscreti ma aperta alle donazioni dei fedeli, rimarrebbe chiusa nel mio santuario personale, sull'altarino da maniaca che non può mancare ad ogni vero fan..
Tutto quello che mi rimarrà di quella serata.
Perchè non penso proprio, emerita stordita quale sono, di riuscire a spiccicare qualcosa.
Chissà Mosè.
Si dev'essere sentito così, con quelle tavole di granito in mano e un rovo appicciato di fronte..
Stessa cosa.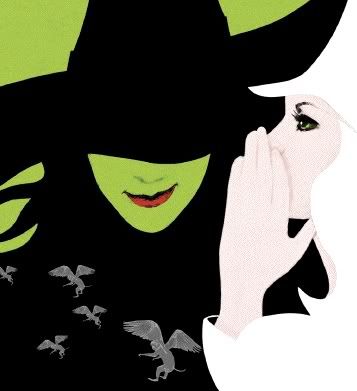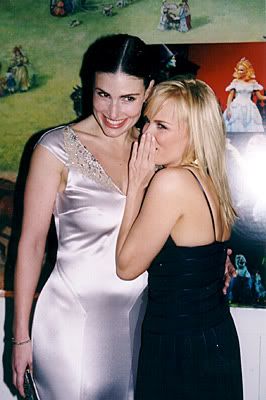 Aren't they cute? *_*
Bring it!