Sabato 4/12/04
Paihia/Auckland
Per concludere in bellezza (e siccome ci siamo stancate cosi' poco in questi giorni..) abbiamo provato la Dolphin Adventure di Fullers, 3h ore in mezzo alla Bay of Islands a cercare delfini.
Sveglia all'alba (spontanea), partenza alle 7.45, conoscenza con la crew: Natasha l'addetta alle mute e all'attrazzatura da immersione, Rowan la biologa marina e la Capitana, un incrocio tra Pamela Anderson e Indiana Jones sotto acido.
La nave si chiama "
Tutunui
", dal delfino di una leggenda Maori che in effetti non fa una bella fine (viene mangiato da un capo rivale e il padrone di Tutunui vuole vendetta-tremenda-vendetta, cosi' ammazza e divora l'ammazza-delfini, inventando il cannibalismo...che bellezza..).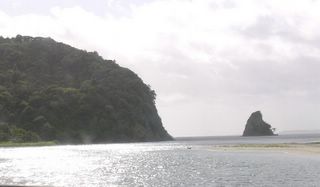 (c)Nerwen

La Capitana ci mette sulla prua come sentinelle, incarica ognuno di noi di tenere gli occhi aperti e parte per un'oretta di girovagamenti per la Baia (fa un freddo porco, ma devo ammettere che è favoloso..).
Spot the dolphin finisce con 1-0 per la Capitana: le hai ha il binocolo, ha barato.
Presa dall'esaltazione ci fa sdraiare a pancia in giu' sull prua, con il corpo per meta' fuori dalla nave, e poi parte all'impazzata: ci spiega che i delfini seguono la scia delle barche xke' si lasciano trascinare e fanno meno fatica a nuotare, cosi' e' meglio mantenere la barca in movimento.
Tacci sua, ha ragione: dopo poco i delfini sembrano impazzire di gioia nel vederci..ci seguono sui fianchi, saltano col giro della morte, fanno a gara con noi..rimango sbalordita.
Lo sono ancora di piu' quando Rowan ci urla "guardate sotto, li avete proprio davanti agli occhi!". Abbasso lo sguardo e sotto l'acqua, a 40 cm dalla mia faccia, vedo un occhio che mi fissa. I delfini sono proprio davanti alla prua, sotto la nostra testa..il delfino scarta in avanti, ci sfiata in faccia e sparisce.
Grondo acqua e urlo di felicita' come un'idiota.
Rowan e' contenta, pare che sia un buon segno, hanno voglia di giocare.
La Capitana si ricorda improvvisamente di essere una Baywatch e ci butta in acqua per l'immersione, ma appena la barca si ferma i delfini spariscono per minuti interi..vanno a cercare cibo, ci dicono, possono stare anche 10 minuti sott'acqua.
Noi 10 temerari ci cucchiamo la muta umidiccia e le pinne, e poi tutti al mare: solo che l'acqua e' 5 gradi, i delfini si avvicinano ma l'acqua e' verde e non si vede a un palmo dal naso..dalla barca strillano "sono sotto di voi!" ma non si vede un tubo.."DI LA'! NO QUA!! A SINISTRA!! NO A DESTRA!! CANTATE, ATTIRATE LA LORO ATTENZIONE!"
Noi ci smazziamo, ci sbracciamo, hummando e cantando e imprecando (per scaldarsi piu' che altro..) ma niente, non ci cagano..
Una volta risaliti io e Manu veniamo colte da un'ipotermia fulminea, quindi andiamo in coma sui sedili della nave per una 20ina di minuti..
La Capitana nel frattempo ci racconta un po' di fatti a random: i delfini di solito muoiono di vecchiaia, e arrivano anche fino a 85 anni (se tagli loro un dente puoi contare gli anelli di crescita come gli alberi..).
La razza che abbiamo visto si chiama Bottlenose, arrivano fino a 3m di lunghezza e sfiatano in 1/10 di secondo (infatti non e' venuta manco una foto, mortacci..).
Urupukapuka Is. (c)Nerwen
Ci fermiamo nella
Otehei Bay
di
Urupukapuka Island
x un caffe' caldo offerto dalla crew (e per uscire dall'ibernazione..) Il posto sembra figo, peccato il campeggio vicino che lo fa sembrare Anzio..mah...
Abbiamo un bus da prendere, quindi di nuovo al molo di Paihia, dove ci accoglie la biondissima bimba della Capitana in braccio al biondissimo papa'..e la nostra Indiana Jones si rincoglionisce come tutti i genitori davanti ai figli piccoli...
Motumaire Island, Kororareka Bay, Paihia (c)Nerwen
E cosi' abbiamo lasciato Paihia..un posto dove i bianchi si fidano solo dei Maori, ne parlano anche la lingua, ma non capiscono i nostri nomi ("Is Chiara your first name? Really. Really!?").
Passiamo Kawakawa, Whangarei (Bream Bay), Brynderwyn, Kaiwaka, Warkworth, Orewa, Albany ed infine eccola laggiu':
Auckland
, la Citta' delle Vele.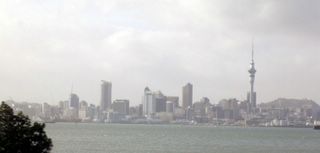 Auckland, City of sails...(c)Nerwen
La nostra fermata sara' Il Fat Camel Hostel.
RIFLESSIONE SUGLI OSTELLI
:
1. Si deve salutare qualcuno ogni santa volta che lo incontri.
2. Devi abbozzare se mentre fai colazione un grosso grasso omone seminudo ti passa davanti uscendo dal cesso.
3. E' bello fregare il burro e lo zucchero agli altri. Soprattutto se è roba che sta nel frigorifero comune con etichette formato 20x30 con su scritto "Jane, room 16" o "Hans, room 3".
3BIS. E' bello, la mattina dopo, cercare di indovinare dalle espressioni, perplesse e contrariate, chi siano Jane o Hans..
4. Il pane a fette e' buono.
5. Non avere tazze a disposizione per il Nescafe' e' abominevole.
6. Il Fat Camel Hostel è bocciato su tutta la linea. Abbiamo cambiato tre volte stanza ed erano una peggio dell'altra. L'ultima aveva una finestra che dava nella stanza da 8 persone. Anzi, sulla forfora della testa di una di queste 8 persone, per la precisione. Non una lampada da comodino, 4 posate in tutto il piano, 2 bicchieri e 3 piatti in croce, la cucina vicina al bagno, camera comune senza finestre (e senza aereatore) dal simpatico puzzo di morto. Staff parecchio da prendere a sganassoni medio-forsti (la Maori sovrappeso vince il premio di Scazzo Grrrl del mese..). Mi dispiace, ma non bastanno i cammelli dipinti su ogni parete..carini, but not enuogh.
7. Fat Camel 0, Mousetrap 1. Palla al centro.
FINE RIFLESSIONE SUGLI OSTELLI
.
La porta del bagno al Fat Camel (c)Nerwen
La zona ha 50 isole, 48 coni vulcanici e 22 parchi regionali, ma nel dubbio optiamo per
Waiheke Island
, nel golfo di Hauraki, a 45 minuti di traghetto dal Waitemata Harbour di Auckland. Pare sia famosa per il vino..io di vigne non ne ho viste, ma di verde taaanto..il tempo non e' dei migliori, ma e' chiaro che l'isola e' un polmone verde..Dalla cittadina di
Oneroa
scarpiniamo per un bel po' raccattando sabbia in ogni spiaggia per la mia collezione e rischiando l'arresto immediato per vandalismo..al rientro osservo l'isola di fronte, Rangitoto..e' la sorella brutta, tra le due: un cono vulcanico in mezzo all'acqua, praticamente..pare sia un posto eccezionale per l'osservazione di specie animali indigene...a me mette solo tanta malinconia..Pensa che animali depressi..
Una volta a terra procediamo in una session di shopping 'till death.
MERAVIGLIE
:
A) I food court, menu' a 8 NZ$ di 14 cucine nazionali differenti, tutte in un unico posto. Per quando ti svegli la mattina e pensi "mmmh, oggi ho proprio voglia di malesiano.."
B) Il Real Groovy store. Chiamarlo "negozio di cd" sarebbe riduttivo. Per quando vuoi essere cosi' super cool che quelle quattro sgallettate di The L Word in confronto sembrano delle shampiste frustrate..(Tranne Jennifer Beal che e' una dea e non si tocca e vabbe'..)
C) Il mercato dell'arigianato locale chiamato The Edge, davanti al municipio. Per quando perdi il tuo senso della comunita'.
D) Lo Sky Village Metro, dal multisala al ristorante, il mall all'ennesima potenza. Per quando vuoi sentirti in America.
E) Il bungy all'incontrario in mezzo alla strada, tra i grattacieli. Sali sul bussolottolone e ti saprano dal marciapiede dritto verso il palazzo di fronte, a velocita' warp 5 che manco l'Enterprise..Pensa che palle che mentre sto a lavora' in ufficio e sto a sbraita' col capo me passa ogni 10 dieci minuti una faccia terrorizzata a dieci centimetri dal vetro...
F) Sierra, i migliori pancakes della citta'.
G) Starbucks. Sempre, comunque e ovunque.
Invece della pausa pranzo xke' non un bel bungy? (c)Nerwen
INCUBI
:
Piove.
Adesso no.
ora si..
ora no..
no, ora si..
ora no..
si..
no..
s..no!
AAARGH!! DECDITI!!! O PIOVI O NO, NUVOLA DI MERDA!!!
Manu si dispera al pensiero di lasciare il suo Frappuccino..(c)Nerwen
Devo aver spaventato la nuvola col mio urlo Xenita, quindi approfittiamo della momentane tregua di pioggerellina bastarda e ci avventuriamo sull'attrazione numero uno (oh yeah) della citta': la Sky Tower, i 328 metri di cemento e acciaio piu' eleganti dell'emisfero sud.
L'ascensore ha il fondo di vetro ma faccio la vaga (la vaghissima!) e reprimo la mia fobia di morire spiaccicata nel fondo di una tromba di 40 piani.
(c)Nerwen
Mi fisso a guardare il panorama a 360° come una becera che non ha mai visto una citta' dall'alto..e da subito ci facciamo riconoscere: dopo una lotta estenuante con un fottuto distributore di patatine muoviamo a compassione un giovane dello staff, che da bravo neozelandese, per scusarsi del disagio ci regala due biglietti per il ponte superiore.
C'e' un ponte superiore??
Si, c'è, ancora piu' spettacolare del primo. Ritorno becera per qualche istante, oscillando al ritmo della Torre (sta ballando per noi!)
Questo perticone contiene 2 hotel, 3 casino', un centro congressi, un teatro, 8 ristoranti e 5 bar, e l'unica cosa di cui mi frega e' il panorama e il negozio di souvenirs.
E lo Sky Jump.
192 metri di salto nel vuoto a 75 km/h, 16 secondi di puro terrore.
Se non costasse un occhio della testa l'avrei fatto, cazzo, ma non mi posso bancarottare cosi'..mi accontento di guardare i saltatori farsela nei pantaloni mentre tentano di sorridere alla crew che gli fa la foto..
(c)Nerwen
Gitarella a
Parnell
, ridente periferia della citta', su suggerimento dell'amore mio...
Il posto e' talmente irreale che se provo a paragonarla alla periferia di Roma o Milano mi si cambia la nazionalita' sulla carta d'identita' da sola. Per la vergogna.
Nel mezzo del delizioso quartiere sorge una collina chiamata
Pukekawa
("collina amara", perche' qui la kumara, la patata dolce fondamentale per i Maori, non si puo' coltivare), e su questa collina c'è l'Auckland War Memorial Museum.
Per i Maori la guerra è una cosa seria, e i morti in battaglia lo sono ancora di più.
Ma qui c'e' anche la vita. Anzi, la vita stessa del paese. Dai dinosauri al DNA c'e' un po' di tutto...Scheletri di struzzi Moa, estinti poco dopo i Dodo (magari piu' furbi?) e tutto lo scibile della storia Maori...Ci gustiamo anche uno spettacolino di balli, canti e armi varie offerto dai ragazzi dello staff..
Come tutti i neozelandesi non sai mai se ti prendono per il culo, cosi' dopo averti avvisato di non ridere per nessun motivo poiche' "Quella che vi apprestate a vedere è una rappresentazione sacra" e tu, tutta presa dal tuo ruolo di testimone di una tradizione millenaria ripetuta davanti ai tuoi occhi per una pura, grandissima botta di deretano, ti prepari col cuore e con la mente ad un'esperienza mistica.........ti si presenta sto gruppo di pazzoidi in costume tipico che ti fa spanciare per 35 minuti filati. E quando esci non solo ti sei visto i balli, i canti ecc ecc, ma ti sei pure divertito.
That's New Zealand, man...
Come terrorizzare i turisti..(c)Nerwen