GIOVEDI' 2/12/04
Autobus Paihia-Auckland
Colori di Paihia(c) Nerwen

Sono il senso di perdita di Joe.
Lungo l'arraccante stradina che porta lontano dal paradiso mi rendo conto di quanto mi dispiace lasciare
Paihia
.
Il viaggio di andata l'ho fatto tutto col naso attaccato al finestrino, a riempirmi di Nuova Zelanda, nuvole e felci.
Il viaggio di ritorno lo faccio ad occhi chiusi cercando di non piangere.
Paihia in realtà è minuscola, un molo per le barche, uffici turistici, un eliporto..negozi, negozietti, negoziucci..bar, baretti, ristorante cinese (e quando mai..)..una spiaggia lunghissima, alberi Pouhutukawa ovunque..traffico inesistente.
Sembra finto.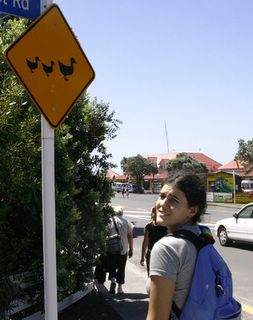 A Paihia evidentemente non hanno i cervi..(c) Nerwen

Il nostro primo giorno facciamo la conoscenza di Jake ed il suo veliero ancorato alla terra: l'ostello Mousetrap.
Una stanza color paglia, felci e buganvillee fucsia alla finestra, ecco dove abbiamo passato le nostre notti.
The Mousetrap, l'ostello piu' bello della galassia..(c) Manu

La mattina mi sveglio alle 5 am, saltello sul letto svegliando Manu sibilando 'l'alba, l'alba!!' e mi fiondo in cucina a mettere su il bollitore per il caffe'..Mentre io resto a bocca aperta sulla terrazza un backpackers fa la valigia sul divano del salotto, mi guarda strano e fa 'C'è l'alba?'
No, mi piace tutte le mattine svegliarmi come le mucche e mettermi a correre per casa con una digitale in mano, coglione.
L'alba sulla Kororareka Bay, Paihia (che altro c'è da fare quando ti svegli alle 5.30?? fotografare l'alba!!) (c) Nerwen

Nel pomeriggio attraversiamo tutta la
Te Ti Bay
, che costeggia mezza Paihia, come un tappeto, fino al ponte sul fiume Waitangi..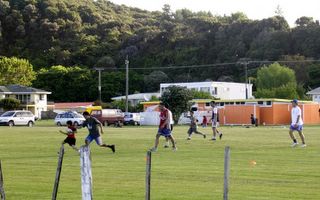 Difficile cercare di capire se stanno cercando di ammazzare un ragazzino o se giocano a rugby...I love this game...(c) Nerwen

Rimango incantata a guardare la vita di queste parti..un gruppo di età varie gioca a rugby su un prato verde Cernobyl..gente che fa jogging, bambini scalzi..un angolo di paradiso, ne sono sempre più convinta..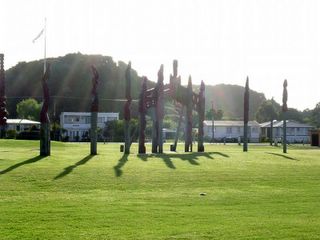 Le porte del Paradiso si trovano sulla strada per Waitangi? non lo sapremo mai...(c) Nerwen

Dall'altra parte, dietro un promontorio, ci aspetta il
Waitangi National Reserve
. I Maori lo chiamano
Te Pitowhenua
, "il luogo della nostra nascita".
Qui si è fatta la storia della Nuova Zelanda: in questa deliziosa casetta bianca, su questo prato affacciato sull'Oceano, i capi di tutte le Tribù Maori e gli uomini della Corona britannica (i cosidetti
Pakhia
, che ora indica tutti i bianchi..) firmarono un trattato di pace, la base stessa su cui venne fondata la nazione.
Attraverso una passerella sospesa nel mezzo di una foresta si arriva ad un prato verde..la casetta del Trattato è ancora in piedi, prima di arrivare alla scogliera sul mare spunta tra gli alberi un Marae.
Intorno c'e' quella qualità di silenzio che si incontra nei templi Buddhisti..Il Marae è il luogo dell'adunanza. E' dove la tribù si incontra, dove vive la sua vita comunitaria, dove onora gli antenati.
La casa rossa scolpita a mano nel legno, detta
Wharenui
, viene chiamata
Te Whare Runanga
, "La casa dove si discute in assemblea", è unica nel suo genere..non è un whare tribale, ma è costruito per accogliere TUTTE le tribù maori, non solo quella locale: ognuna di loro ha infatti contribuito a decorarlo...
La casa stessa rappresenta un antenato dalle braccia spalancate. Dall'alto, il teko teko rappresentante il leggendario esploratore Kupe sorveglia il luogo della firma del trattato, a pochi metri dalle onde, dove ora sorgono le tre bandiere nazionali.
Te Tiri o Waitangi, A.K.A. Te whare Runanga nel Marae del treaty Grounds..(c) Nerwen

Poco più distante è custodito il regalo delle tribù Maori in occasione del centenario del Trattato: la gigantesca canoa
Ngato Kimatawhaorua
, tra le più grandi canoe da guerra del mondo, che porta il nome del'imbarcazione con cui Kupe scoprì la Nuova Zelanda. Talmente immensa che ci sono voluti tre alberi kauri per costruirla..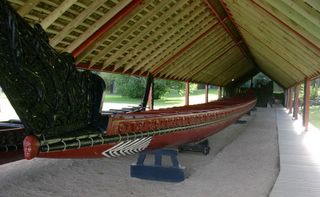 ..evidentemente SI, le dimensioni contano, almeno per i Maori..O_o (c) Nerwen

Ogni anno, in febbraio, viene messa in acqua durante una cerimonia. dev'essere pazzesco trascinarla fino all'acqua e vedere che ce la fa comunque, a galleggiare.
Ngatoki Matawhaorua, Waitangi Treaty Grounds. (c) Nerwen

La base di uno degli alberi usati si trova poco distante, pietrificata e immensa.
Si, decisamente: in NZ le dimensioni contano.. (c) Nerwen

Il secondo giorno e' dedicato alla prima follia: un tour Dune Riders.
Paul, il nostro autista/guida/intrattenitore, sa che vuol dire essere un Dune Rider..
Ci viene a prendere tutto giulivo: per una volta sono tutti in orario e quindi possiamo partire entro i tempi della tabella di marcia..
La nostra Priscilla, regina della foresta pluviale..(c) Nerwen

Dopdichè si accorge all'improvviso di aver scordato di prelevare una coppia a
Kerikeri
..
Inversione e piccola gita anche di Kerikeri, dove Paul ci mostra, non senza orgoglio, la più antica casa in pietra della Nuova Zelanda..(come glielo spiego il Colosseo, a questo, senza ferire i suoi sentimenti?)
Quell'Hobbit di Paul...Manginangina Kauri Walk (c) Nerwen

Passiamo per
Kaeo
,
Whangaroa
,
Mangonui
,
Taipa
,
Awanui
e ci fermiamo a mangiare su una spiaggia di fronte alla
Doubtless Bay
.
La baia deve il nome al suo scopritore, il solito Cook, che annotò sul suo diario "Questa, senza dubbio, è una baia..".
Perspicace, il ragazzo!!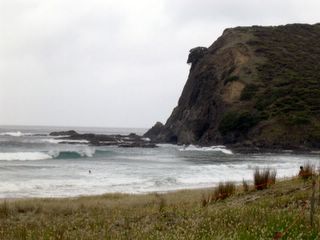 Doubtless Bay...non so se il temerario nell'acqua sia sopravvissuto o no...(c) Nerwen

Evitando gabbiani infoiati e la polmonite acuta (c'e' un nebbione e vento a 100 km/h e alcuni dementi del nostro gruppo si sono fatti il bagno..) riusciamo a mangiare e ripartiamo.
Questo stronzetto mi voleva fottere il pranzo...(c) Nerwen

Paul ci porta in una foresta di Kauri enormi, la
Manginangina
..
Finchè non te lo trovi davanti non ci credi a quanto sono grossi..hanno centinaia d'anni, grandiosi e dritti come fusi, eppure basta incidere la corteccia, far uscire la gum e lasciarlo sanguinare a morte..crollerà esausto, con un rombo di cannone, svuotato.
Nota: Nella foresta piove, sempre. Fuori no.
And UUUUUP WE GOOOOO!!!! (c) Nerwen

Paul ci spiega sta cosa dell'"ammazza anche tu il tuo opossum": pare che questo tenero animaletto sia stato importato dall'Australia per la pelliccia, ma avendo trovato un clima più favorevole ha pensato bene di riprodursi il doppio delle volte l'anno.
Ognuna di queste bestiole consuma ogni notte quantità spropositate di foresta, bacche, foglie, insetti..praticamente non gli fa schifo niente.
I neozelandesi quindi, per proteggere le loro foreste, trovano giusto, anzi DOVEROSO ammazzare quanti più opossum possibile.
Pare che se li investono ci riapassano sopra in retromarcia...mah!
Dopo altri km in mezzo alla foresta pluviale la linea di vegetazione, verde e livida, si interrompe bruscamente.
E qui cominciano le dune.
E che dune.
Sono alte decine di metri, e spuntano dal nulla.
Paul, compiaciuto come un Hobbit alla sua terza colazione, ci ammolla delle tavole da bodysurf e ci indica la cima.
Cazzo il Sahara!! (c) Nerwen

La salita è praticamente in verticale e faticosissima, e la tavola non aiuta. Arrancando arriviamo sulla sommità, senza fiato, i polmoni in fiamme e la sabbia in posti innominabili.
La vista però è spettacolare: da una parte una distesa di dune bianche, a perdita d'occhio..dall'altra una foresta immensa.
Comunico a Paul che mi appresto a tirare le cuoia, seduta stante.
Lui si fa una sonora risata, con un calcione mi sbatte sulla tavola e una pedata mi fionda di sotto.
La discesa è esilarante e terrificante allo stesso tempo..concludo la scivolata finale con l'urlo Xenita..
Mi troverò sabbia nelle orecchie e nelle mutande per giorni.
Dov'è che io dovrei salire, scusa?!? (c) Nerwen

La tappa successiva è
Cape Reinga
, la punta più a nord del paese (più o meno..).
Fari nella nebbia..Cape Reinga (c) Nerwen

Per i Maori è un luogo sacro. Credono infatti che l'albero di
Pouhutukawa
ancorato allo strapiombo sia il trampolino per le anime dei morti che raggiungono "la terra degli antenati", il paradiso dei guerrieri.
C'è un nebbione pazzesco e un vento che ti sposta.
Il faro, tra due mari in tempesta, è insieme inquietante e mistico.
Anime che si gettano dall'albero Pohutukawa verso l'aldilà..tranne due che ci hanno ripensato..(c) Nerwen

Il ritorno si fa correndo col pulmino 4x4 lungo la 90 Miles Beach, una striscia di sabbia infinita che ci riporta verso Paihia.
Nonostante la bassa marea il pullman è costretto ad aggirare ondate improvvise e tagliarle di netto quando sommergevano le ruote del mezzo, per evitare di rimanere impantanato nella sabbia infida..
Ci fermiamo al Bluff, uno scoglio che durante la bassa marea si riunisce alla terra, con un simpatico effetto Mont St. Michel..
Il Bluff è ricoperto di conchiglie, come direbbe Indiana Jones: "sembra di camminare sui biscotti.."
Dall'orlo della foresta in cui si dissolve la spiaggia escono cavalli selvatici..giurerei che ci abbiano guardato storto.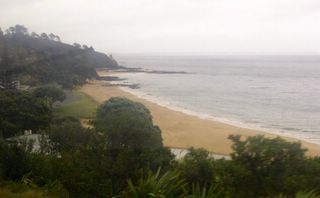 Pukenui,Cape Reinga (c) Nerwen

E qui mi si scassa la digitale, maremma bulgara..
Sono stati i cavalli, me lo sentivo.
Lungo la strada del rientro Paul ci fa fermare ad un Fish'n'Chips di amici suoi, a un negozio di prodotti fatti con legno di kauri (vuoi mettere avere un divano di 1200 anni??? Alla modica cifra di 6mila euro?? Un affarone..), a mangiare frutta biologica da un banchetto di amici suoi su una stradina che costeggia un vigneto di kiwi (non la sapevo questa: i kiwi nascono da vigne, come l'uva!!).
Ci ha fatto conscere tutta la zona, praticamente..
In un Coffee Shop...Io adoro sto popolo...(c) Nerwen

Rientrando mi rendo conto che anche Paul, come Jake del Mousetrap e Peter Jackson, si sente un Hobbit, deep inside.
I piedi scalzi non sono un vezzo, qui.
Sono uno state of the mind.
Te ti Bay, Paihia (c) Nerwen