Te Whakarewarewatangaoteopetauaawahiao Arts and Craft Institute, visto dalla collina dei gyeser....*_* (By Nerwen)

Questo e' il posto dove vorrei essere ora, invece di prepararmi per andare a lavoro domani mattina..

Una valle dal nome impornunciabile, a crogiolarmi su terrazze di pietra calcarea rovente..da un lato un geyser di 25m che spruzza furioso da ore e dall'altro uno sbrodolamento di colline che sembra un verde letto bitorzoluto..

il geyser Prince of Wales Feathers e il Pohutu Geyser (Big Explosion), Te Whaka Arts and crafts Institute (By Nerwen)

Qui e' dove vorrei vivere.
Dove vivere in mezzo ai grattacieli non significa necessariamente smog, traffico e disservizi..
Dove vivere in un paesino non significa squallore, sagre del carciofo e noia mortale..
Dove hanno trovato il modo di convincere milioni di turisti che pagare per veder tosare una pecora non solo e' DIVERTENTE, ma e' un must da non perdere (!!)

Un paese che ammazza gli opossum che gli divorano le foreste e le amate felci (sara' xke' sono animali australiani?) e proteggono i propri pennuti (il Kiwi, il Kea, il Pukeko..) come fossero bambini..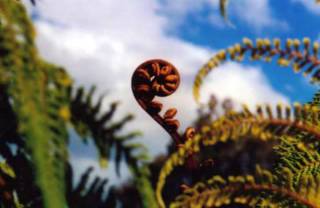 Una baby foglia di felce argentata (detta anche Ponga) o Silver Fern, The Whaka arts and crafts Insititute (By Nerwen)

Un popolo intero che viene chiamato a raccolta da un urlo di guerra strillato allo stadio..

Un popolo per il quale è te tangata, gli essere umani, la cosa piu' importante al mondo e per il quale l'ospitalità ha un significato ben preciso: arrivi come un estraneo e vai via come un amico.

Manuela al parco sul Lago Rotorua (By Nerwen)